Glass Blowers National Awards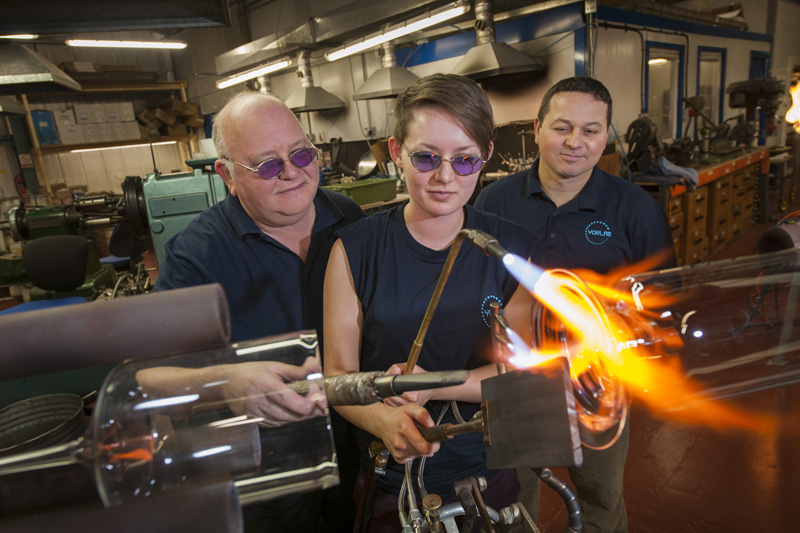 YorLab trainee Glassblower Eloise Alsop has been awarded the coveted AD Wood Cup in recognition of excellence in scientific glassblowing by the British Society of Scientific Glassblowers at their Annual Symposium.
To gain this standard, Eloise demonstrated her excellent craftsmanship by creating a set piece (McLeod gauge) as evidence of best practice.  The entire work had to be done without the aid of a lathe.  The AD Wood Cup is awarded to glassblowers with up to three years' experience in scientific glassblowing.
YorLab Head Glassblower Tony Mercer was also successful at the British Society of Scientific Glassblowers annual awards, winning the David Flack Memorial Trophy for the second year in a row after demonstrating his artistic ability creating a glass steam train.
Alex Davis, Managing Director of YorLab, said, ''It is fantastic to witness Eloise and Tony win these awards and I congratulate them both on their achievements.  In Eloise's case, it is great to see a young person flourish and be successful, using her creative ability to complement what she does every day.  Our glassblowing team has 100 years' combined experience between them and this creativity is an important part of helping the scientific industry to design and develop glassware to suit their individual requirements."
Eloise, who has been a glassblower at YorLab for two years, is set to complete her training in 2013 and sit her final exams.  Eloise said of her award: ''Winning this award and to be acknowledged by experienced glassblowers who truly recognise the level of work I have produced is a great confidence boost.  I thoroughly enjoyed the challenge and the chance to demonstrate the variety of techniques and skills I have learnt whilst working at YorLab.''
Tony commented: ''These awards show the team's ability to solve problems and produce bespoke pieces as well as highlighting their inventiveness and versatility.''
---
3 Responses